Five things every man should know about plastic surgery
"Who said Plastic Surgery isn't for men? Over 1.3 million cosmetic procedures were performed on men in 2016 alone! Read on to learn some of the most important things men should know about Plastic Surgery.  Here's a small sneak peek: procedures are customized specifically to the male body, you need to rest after surgery (no immediate gym time!), and it is absolutely imperative that you choose a board certified Plastic Surgeon to perform your procedures." -Board Certified Plastic Surgeon Doctor Jason Petrungaro
As the stereotypes around plastic surgery are slowly being broken down, a whole new world is opening up for men who value a refreshed, youthful appearance. According to the American Society of Plastic Surgeons' annual statistics, more than 1.3 million cosmetic procedures were performed on men in 2016; however, this is only 8% of the total number of procedures performed. Men are still hesitant to opt for cosmetic surgery, often due to a lack of proper information. To eliminate any remaining fears, there are five important things every man should know about plastic surgery before they schedule their first aesthetic consultation:
Plastic surgery procedures are tailored differently for men and women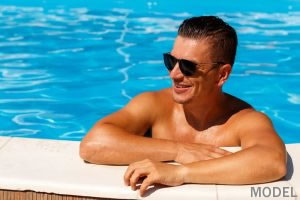 The desired results from most plastic surgery treatments are similar for both men and women. However, the theory and technique involved will require a unique approach, as the bodies of men and women differ. Each gender has unique features, including skin thickness and pore size, as well as the manner in which they store fat. Successful male cosmetic surgery will also focus on creating or retaining masculine features, which may be sharper or more prominent than those of women. It is important that men trust in a surgeon who is both board certified and experienced in male plastic surgery techniques. A skilled surgeon will keep their male plastic surgery procedures conservative for natural-looking results.
Plastic surgery does not replace working out
Plastic surgery does not replace a healthy diet and a consistent exercise routine. Body contouring procedures such as liposuction or abdominoplasty (tummy tuck) are excellent techniques for restoring a taut, smooth physique. Liposuction will eliminate isolated areas of fatty tissues, which for men can mean their flanks (love handles), their chest or even their lower back. A tummy tuck will rid unwanted abdominal fat and lax skin. However, without a healthy lifestyle, the surgical results can fade. Additionally, losing or gaining a large amount of weight can jeopardize the benefits of surgery.
You need to rest after plastic surgery
No one wants to be out of commission to recover after surgery, especially men. However, the first several days after a plastic surgery procedure are vital to healing. Depending on the procedure performed, men may need to take a few days or a few weeks off from work. The more invasive the procedure, the more time off necessary. Going back to work, or incorporating strenuous activities too soon, increases the risk for serious complications, as well as undoing the benefits of surgery. During each follow-up appointment, the surgeon will give the all-clear for resuming physical activities.
Noninvasive techniques can boost your appearance too
Not everyone is ready for the cost or recovery associated with a surgical procedure. There are a large number of nonsurgical procedures available that provide significant results, hold fewer risks and require no downtime. These techniques can smooth wrinkles, add definition to the facial features, improve the complexion and even get rid of unsightly fat. Some of the most popular noninvasive procedures for men include Botox, chemical peels and CoolSculpting.
The right surgeon makes a difference
Men should begin their aesthetic journey by researching their desired technique and potential doctors. A board-certified plastic surgeon, experienced in male cosmetic procedures, is the best way to ensure natural-looking results. Schedule an in-person consultation to find out more about their treatments and to get a feel for the office. If you are not comfortable with the surgeon for any reason, keep moving – never settle when it comes to your health or appearance. –Paul Vitenas, Jr., MD | Plasticsurgery.org